"We Whisk You a Merry Christmas!" is an easy last-minute neighbor gift to put together.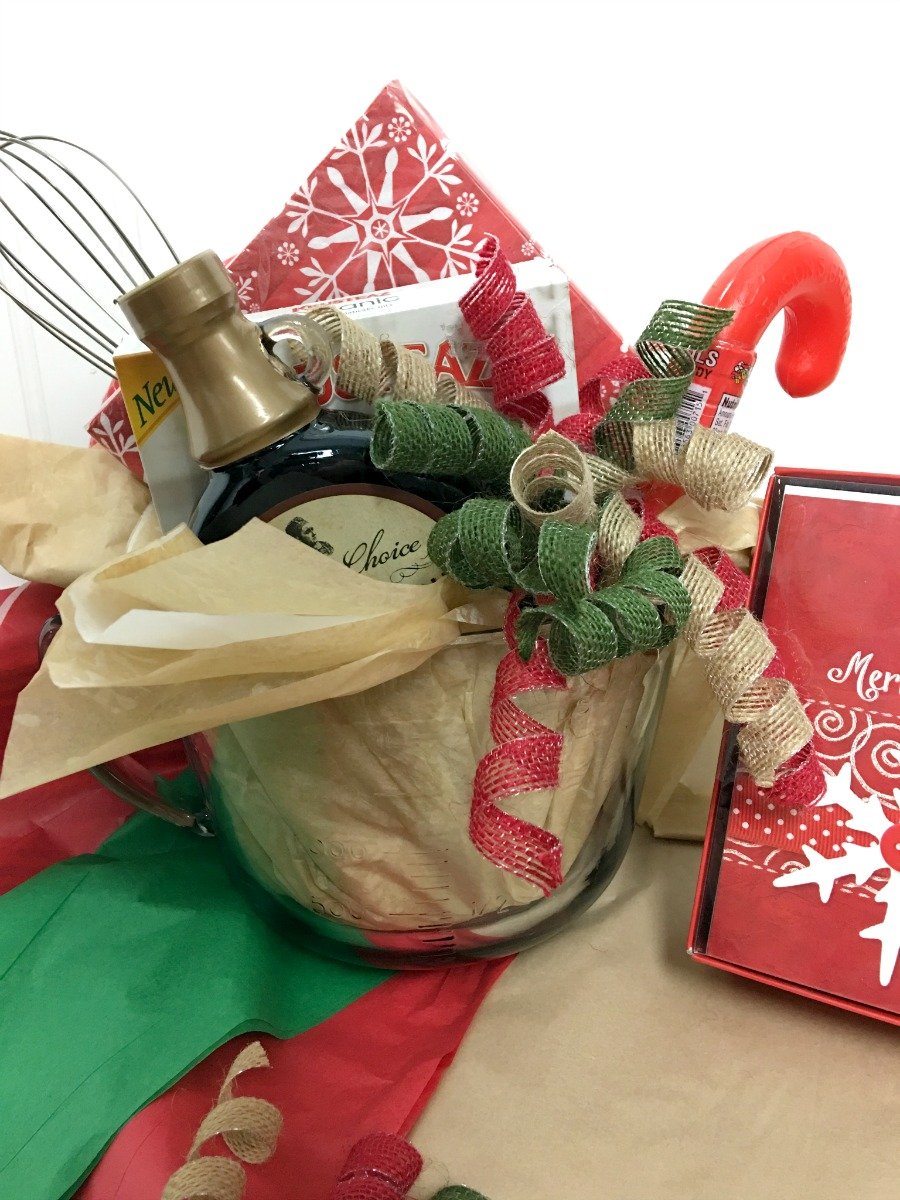 Our family's special holiday tradition is going over to my grandparent's house on Christmas morning. My grandma cooks a big breakfast, and I love hearning her tell old funny stories. – Caroline Sunshine
Who doesn't love Christmas morning breakfast? Well, maybe tiny ones ready to play with toys but everyone else there is interested in the food. This is why this is such a great last-minute neighbor gift.
Add some local goods, family favorites, or items from the store. Your recipient will be able to make breakfast for their crew and maybe get the whole family involved.
Add you "We Whisk you a Merry Christmas" for your gift tag and you have a sweet gift to give most anyone on your list.
Neighbor Gift Idea
*We use affiliate links and can earn from qualified purchases. You can read more of our disclosure policy here for additional information.
Here are some ideas to add to yours (note a lot of items can be found at your local dollar store):
GIFT ASSEMBLY
In the batter, or mixing, bowl, line it with the tissue paper.

Next, add your other items so that the tallest items are in the back and the smallest ones are in the front. If you need to prevent the front items (small) from sliding to the bottom, add some bunched up tissue paper and place it under the items. Because you have lined the bowl with tissue, you won't be able to see it if you have a clear bowl.

Add a ribbon and card sharing "We Wisk You a Merry Christmas". Let them know this is an easy breakfast for Christmas morning.

You can do a large clear gift bag/cello over it or give it as is.
Now your neighbor, or friend, is set to go on Christmas morning.
Gift Notes:
I don't usually advocate for disposable items (plates/napkins) but sometimes it's helpful for people to have easy on a busy morning. If you want, you can always check out more biodegradable options like these.

If you can, support small when possible. Can you get a local jam or syrup? Even just one item can be that special thing that really gives it some meaning.

Instead of a card, try just a label with the "Wisk you a Merry Christmas".

This gift really could be done in bulk.
MORE HOLIDAY INSPIRATION
Here are some of our top holiday posts in case you missed them:
Thanks for stopping by today. Our goal is to help make the most with whatever you have by sharing budget-friendly, time-saving, and reusing/DIY ideas for all parts of your home and life. If you enjoyed this last-minute neighbor gift idea, we would appreciate a share on any social media: Instagram, Facebook, and Pinterest. Plus, don't forget to follow us as we share even more ideas on each account.