"The purpose-where I start-is the idea of use.  It is not recycling.  It's reuse."
– Issey Miyake
Meet Your Hosts!
The Inspiration Vault | C'mon Get Crafty | Across the Blvd
Stone Cottage Adventures | Purple Hues and Me | Domestic Deadline
Modern on Monticello | Salvage Sister & Mister | This Autoimmune Life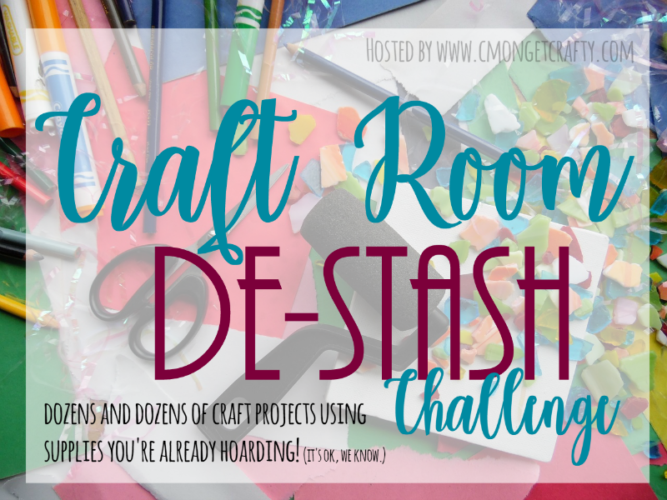 Every month a group of bloggers are challenged by C'mon Get Crafty to create a new craft or project from their own stash of goodies! Everyone is allowed a $10 allowance for necessities to complete their project, but the bulk of it must be created from their own stash of goodies. Check out some awesome creations you might be able to make from your own stash! #CraftRoomDestashChallenge
 We are coming to the time of year where we say goodbye to some pretty fabulous calendars. 
Today, we are going to show you how to reuse them to create…
Upcycled Calendar Greeting Cards
You say you don't buy a calendar?  No worries, you can reuse the front of greeting/Christmas cards you receive.
Q. Why make your own cards?
A. Well, not only are you avoiding waste but has anyone seen the price of cards?  YIKES!  Tight budget or not, cards can really add up.  If you send out 55 cards a year (average) X $3 (average) = $165 a year.  We can make them WAY cheaper and with less to throw away cause let's be real…most get tossed!
SUPPLIES
*Affiliate links used to show like or similar type items.  You can read our full Disclosure Policy here.
Calendar, or any greeting cards you have

Scissors

Plain Greeting Cards, you can often find them on sale at your local craft store..don't forget your coupon
Craft Supplies- buttons, ribbons-use your leftovers, water color pencils, photo corners, fabric scraps, glitter pens, markers, washi tape, leftover pretty scrap paper, hole punches, gelatos, sequins, etc) Basically, anything you got!
* Would highly recommend a glue runner for this project, if you don't have one.
|DID YOU KNOW THRIFT STORES ARE ACTUALLY A GREAT RESOURCE FOR CRAFT SUPPLIES? READ MORE HERE|
UPCYCLED CALENDAR GREETING CARDS DIRECTIONS
Now, take your calendar/card and cut out any designs that you like.  Think about those pretty boarders, pictures on dates, and basically anything purrrrrrtey.
Take a blank greeting card….
******************Let your imagination fly****************
There are some tricks to design though:
Make sure you pick a color theme.  Are you doing a red and green card or a snowflake card?

Pick one special piece or focal point and build around that.

Don't glue anything right off the gate.  Play around with a mock design for awhile to see how you like it.

Layer!  If you want the card to have a special quality to it, get some layers and even look at different patterns.
If you are super "fancy", you can stamp your name on the back…...created by.
Since a calendar has many different seasons, it's easy to make a card for each one.  You can then tie them all together and give as a gift or use them yourself.
Now that you are ready to start making your own cards, look over your Christmas card stash and see if you can use any of it before it's recycled.
Here are a few more posts we think you will enjoy:
*We hope you enjoyed this upcycled calendar greeting cards project.  If you have a reuse idea for calendars, we would love to hear about it in the comments below.
Be sure to check out the other projects in this Craft De-Stash: