DIY "Chippy Paint" Farmhouse Watering Can
I'm so excited to share a friend with you today, Rhonda from Hollstrom Home.  I met Rhonda via Instagram and she is one talented little lady.  Not only is she from the Pacific Northwest, like me, but she  paints/styles, has a shop, a blog, and a very popular Instagram account……oh, and did I mention a mom of 7?
For today's SSM Feature Me, please welcome Rhonda….
Re-purposing something old into something new is so fun and easy with the right products. I'm going to walk you through the process on how you can make your own DIY Chippy Paint Watering Can. Since farmhouse decor is the latest trend in home accents, I thought this would be a fun project so you can still have this style yet with your own unique twist. For me, its choosing my color that is key. On this one I used a light aqua blue chalk style paint.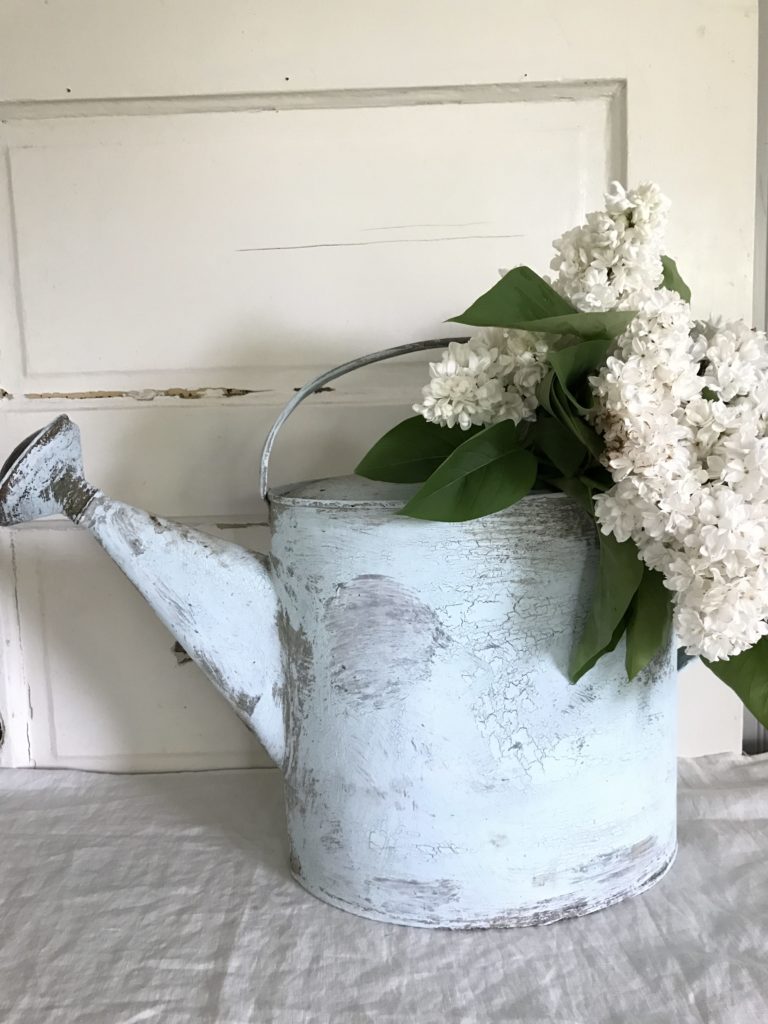 To pick the perfect watering can for this DIY is very simple. You can grab a vintage watering can at your grandmothers house. Or you can order a new watering can online. Both options will give you the same look, but I'm sure grandmothers watering can would look just a wee bit better.
SS&M Tip – Try to find one at a thrift store too.  Here are some other don't miss items from a thrift store.


DIY "Chippy Paint" Farmhouse Watering Can Tutorial
*Affiliate links used to share the same or similar products used.  Please see our full disclosure policy here.
The key to creating this DIY Chippy Paint Watering Can is a product called Salt Wash. You will add this loose power to your chalk style paint to get a thick tooth paste consistency. So grab your watering can, vintage or new will work. Now you are going to start dabbing this paint on. Once it dries, The paint will start crackling where it has been applied in a thick manner. I then added clear wax to preserve the finish.
SS&M – Do you remember my salt wash project and how I wanted all things salt wash?
Don't hesitate to ask any questions you may have on this project. You can go visit me on Instagram or on my site.
I also want to thank Salvage Sister and Mister for having me here. It is such an honor to share this DIY Chippy Paint Watering Can with you all.
So how many chippy paint farmhouse watering cans do you want to make now?  One for every room right?  So pretty.
Thanks to Rhonda for sharing this great project.  Really you will love everything she does.  Plus, she has a great big heart!  Be sure to go and pay her a visit! 
Here's a few more posts we think you will enjoy:
|THRIFTED FARMHOUSE BUCKET| REPURPOSED DUTCH OVEN PLANTER | FARMHOUSE STOOL